In late 1987 the career counselor on the USS Niagara Falls (AFS-3) called my detailer for me while we were in port at Diego Garcia. My two choices for a next assignment were Rescue Swimmer School Instructor in Pensacola, FL or VC-5 at NAS Cubi Point, Philippines. Fate sent me to Pensacola and in hindsight I'm glad it turned out this way.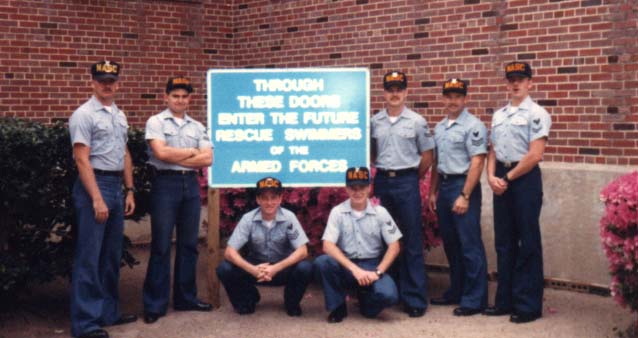 Here is 'B' Team pictured in front of building 672, April 1989. Pictured from L to R are AE2 Randy Donovan, AW2 Bobby Powell, AME1 Rob Carter (Asst B Team Leader), AW2 Jim Britton, AW2 Jason Slinkard, AMS1 Curt Stewmon (B Team Leader), and AE2 Tom Wiley. Take note of who had the sharpest set of dungarees on :)

Come on inside to see more of what we do at Rescue Swimmer School.